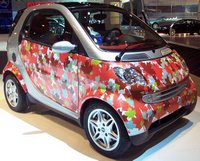 The little car should have been the brand of the new millennium
National Post
John LeBlanc, CanWest News Service
Published: Friday, March 31, 2006
At the peak of its success in Europe, chic and fashionable Smart cars cluttered crowded European city streets. This early success eventually led to Smart fielding a three-car lineup consisting of the iconic two-passenger fortwo that's been selling in Canada since the 2005 model year, the funky and fun fortwo-based roadster and the four- passenger forfour. And even more Smarts were on the horizon. A ruggedly styled SUV version of the forfour dubbed the formore was planned as a Trojan horse for Smart into the American market.
Despite becoming an icon of European city living, the Smart brand has run at a financial loss for its owners at DaimlerChrysler since its inception in 1998.
Knowing this, it comes as no surprise that after months of speculation as to the ultimate fate of the business and its products, DaimlerChrysler has made the decision that the money-losing brand will live to fight another day; it will just have fewer arrows in its quiver.
Read full article
here.