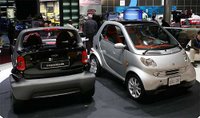 Friday, January 13, 2006 The Detroit News - Leave it to a reporter to stand in a big room with the most spectacular cars in the world and complain about one that isn't there.
Two years ago, Mercedes-Benz showed off an 8-foot-long commuter called the smart fortwo at the North American International Auto Show. It had two seats, three cylinders and no capital letters, that last part to emphasize how cute and perky it was.
Last year, smart had its own tiny display at Cobo Center, where the company predicted arrival in U.S. showrooms by late 2006. The fortwo has been on the road in Europe since the late '90s, and astute Canadians bought more than 4,000 diesel versions last year, but the American launch has been postponed until
Well, maybe never. Which is why there are no smarts at the auto show, and why I pinned down smart communications director Heinz Gottwick to ask, ever so politely, "When can I buy my darned smart car?"
"My motto in life is 'no risk, no fun,'" Gottwick says, "but sometimes, you have to be cautious." That means Mercedes is still trying to figure out if smart can make money -- something it has never quite accomplished in Europe -- and whether it can redesign the $15,000 roller skate to meet American safety standards without sacrificing its sweet little soul.
The odd problem, safety-wise, is that the 1,600-pound smart is too big inside. Canadian crash tests are conducted with the dummies wearing seat belts. Assuming, apparently, that U.S. drivers are too dense to buckle up in a car the size of a sheepdog, our testers leave the belts off.
"This makes a huge problem if you have too much space," Gottwick says. An American version would need some sort of knee bar for the passenger, among other things. So Mercedes has to decide whether it's worth the effort to tinker with the fortwo, find willing Mercedes-Benz dealerships and develop a marketing scheme for a 60-miles-per-gallon micro-car in a nation that thinks a Hummer is a perfectly sensible vehicle.
The decision will come by mid-year. As someone who plans to be first on the waiting list, I hope Mercedes steps smartly, in every conceivable sense.