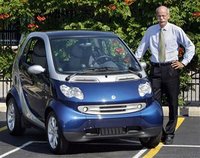 44,000 possible in 2008 when Daimler releases minicar in United States
DaimlerChrysler AG may be able to sell as many as 44,000 of the two-seat Smart minicars each year in the United States when the vehicle goes on sale in 2008, said CEO Roger Penske of United Auto Group Inc., which will distribute the model in the world's largest market.
About 4,000 Smart cars were sold in Canada in the model's first year there, and the U.S. market is 11 times larger, Penske said in an interview late Thursday in Stuttgart, Germany, where DaimlerChrysler presented a new version of the Smart. No incentives will be offered on the car, which will start at about $11,000, he added.
DaimlerChrysler CEO Dieter Zetsche reiterated that Smart will break even next year.
Zetsche aims to capitalize on demand for fuel economy as the cost of gasoline hovers above $2 a gallon in the United States. The car gets more than 40 miles per gallon and has a range of about 400 miles, Zetsche said at the presentation Thursday night.
Read full story here.